Where to start a trip in Thailand? Certainly, the best choice is Bangkok → the capital, with a population of over 10 million, was a just few hundred years ago only a small fishing village. Yeah… it's almost impossible to imagine.
How did we experience it?
We flew to Bangkok at Suvarnabhumi International Airport, which is a good 30 kilometres away from the city centre. It is not very close, but the airport has well arranged, relatively quick and most notably convenient bus as well as rail connections. If you are staying in a newer part of the city then it is better to choose a train, but if you choose the older, more authentic area and be in the centre of action, then it is better to choose a bus, that takes you directly to the famous Khao San street. Oh, and the price? 60 THB (approx. € 1,80) per person for a one-way bus ticket.
But why even go to the Bangkok? Well… if you don't like crowds, chaos on the roads and all the noise, then you'll want to get out of the city as soon as possible. But it's not easy to get past all of this here. It's lively and noisy practically everywhere… crowded streets, roads, numerous shops, stalls, markets… with every step you come across some new things, sometimes shocking, other time something fun… everything smells (well, sometimes stinks) of various local culinary specialties. Bangkok has it all!
If you only have one day to visit the Thai capital, we would definitely suggest spending it in a slightly wider area of Khao San Road. Maybe the most famous street in the city, which is filled up with tens of thousands of people every day, especially in the evening. Some come here for souvenirs, others for food, drinks and fun, but most of all, everyone come here for this special atmosphere.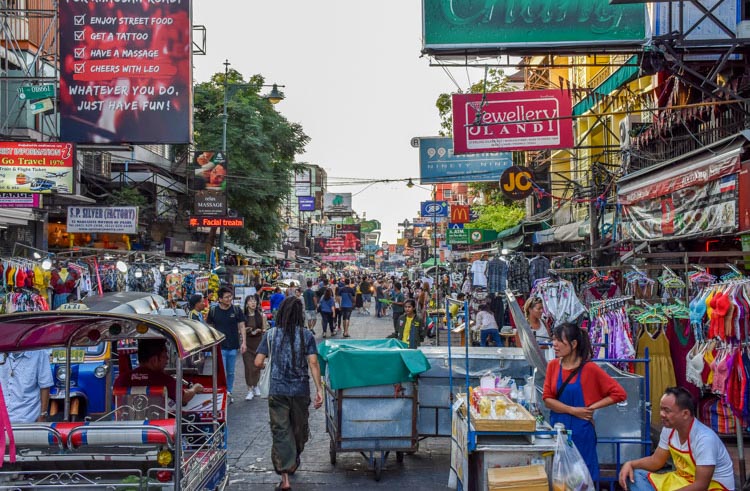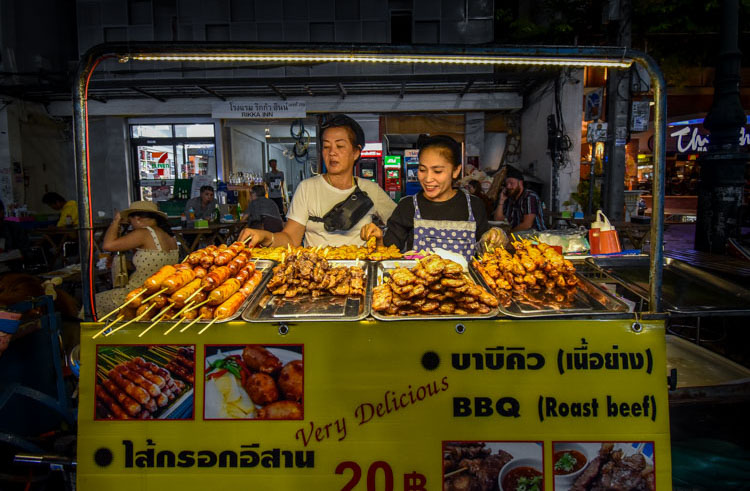 Of course, there are many more things to do in Bangkok – the "main attractions" are the Grand Palace and the Wat Phra Kaew Temple, which hides just 66 centimeters tall emerald Buddha. Entrance fee for the whole complex is 500 THB (approx. € 15) per person, which is a bit exaggerated considering the other prices. As is the case with the temples, the dress code needs to be followed. Both men and women must cover their knees and shoulder.
In addition to the aforementioned, we also visited the Wat Pho Temple, where it is the largest collection of Buddhas in Thailand, there is also the 46 meters declining golden Buddha, which definitely stands out. You will be charged 100 THB (approx. € 3) per person for entry.
When we talk about Thailand, we might not even think that Bangkok is in some ways very similar to the European or American metropolises (of course, if we exclude the older part of city). In Siam, there is a large Lumphini Park, public transport is equipped with modern trains, there are skyscrapers and numerous shopping centres, where you can find practically everything from souvenirs, food and also clothing of the most recognized brand from all over the world.
Anyway… we guarantee that you won't be bored in Bangkok, even for the second. The difference between the old and the new part of the city, all the happenings on the streets and many sights, are just some of the reasons why more and more tourists visit Bangkok every year. So… indulge yourself in the flow, try a new Thai dish, get yourself a massage in the middle of the street and just enjoy yourself.
S & B