Chiang Rai lies in the far north of the Thailand and is only 55 kilometers away from the state border with Laos and Myanmar. The city itself may be (too) forgotten many times, since many people focus on planning to visit just the surrounding sight, which are mostly visited during day trips from nearby Chiang Mai.
Many take the night train from Bangkok to Chiang Rai. The ride lasts as much as 12 hours, so we preferred the second option and decided to take a one-hour flight. It is true that the difference in the price of the tickets is obvious (we deducted € 70 for two airplane tickets with luggage included), but it is also necessary to take into account the difference in comfort and especially in time. We prefer spending time enjoying and navigating the city, rather than sitting in a train for the whole day or night.
Everything you need, or what you to see in the city itself, revolves around the main bus station. Just behind of it, it is a daily night market with souvenirs and a huge space with many tables, surrounded by stalls or small kitchens, where thousand of meals are cooked every night. The venue truly comes to life after 6pm, when it is flooded by both locals and tourists, who come here to satisfy their hunger with many Thai specialties. The prices of individual dishes range from around 60 to 100 THB (€ 1 to € 3), which is very cheap.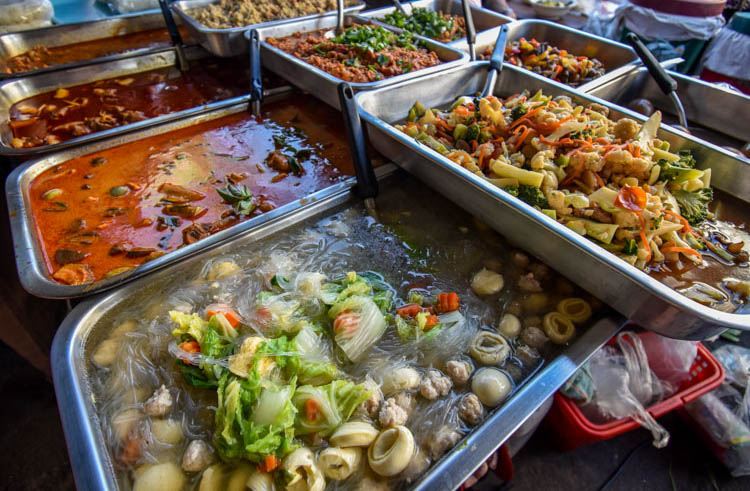 Of course, Chiang Rai is known mainly for its two or three temples: white, blue and black. Very originals names, right? 😃 Above all, the first of aforementioned attracts numerous tourists on a daily basis. It is a modern temple, which is being built by artist Chalermchai Kositpipat for many years now, it is entirely white in colour with many small mirrors. In addition to traditional shapes, sculptures and painting, the artists included images of imaginary film and cartoon characters, such as Pokemons, Batman, Ironman, Golum from Lord of the Rings and many more. Those do not stand out, but definitely makes building more interesting and special. Entrance fee is 100 THB per person (approx. € 3).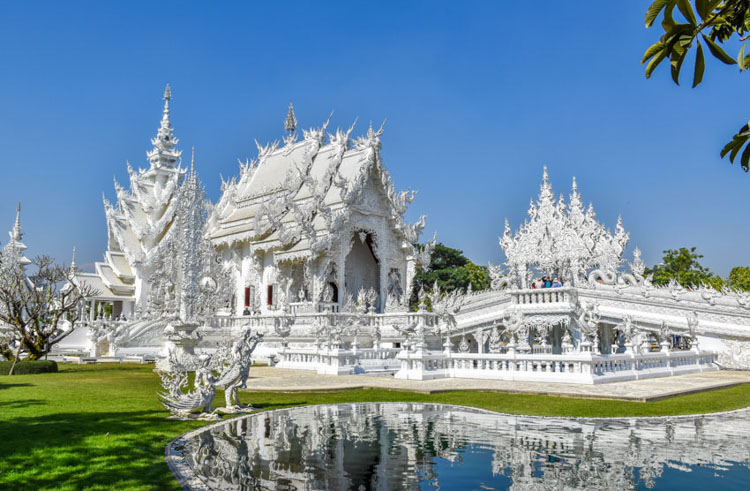 The Blue Temple is perhaps the most traditional of these three, while the Black Temple is not really a temple, it is more like a museum, that was, like the white one, crated as an independent project by one of the artists.
It is easy to access all the temples, take a local bus or arrange yourself a ride with a songthaew (reconfigured small truck that can accommodate at least 10 passengers, who can sit on two wooden planks). Regardless of the chosen way of transportation, a one-way ticket costs 20 THB (approx. € 0,6) per person.
In our opinion, it doesn't take more than two days to get familiar with Chiang Rai. However, if you have more time, you can enrich your days with a trekking to the nearby hills, visit to elephant orphanage, or head to the famous Golden Triangle.
S & B