City of all cities, New York! We finally visited gigantic metropolis on the east coast of the United States… We landed at Newark Airport, in neighboring New Jersey. If you are skilled in the use of public transport, you need to take AirTrain to the Manhattan, which leads straight to Penn Station. From here, you can take metro which drive to every part of the city. Traveling with subway is definitely the fastest and by far most convenient mode of transport. One-way ticket costs $ 2,75, but if you are staying here for couple of days, or for a week as we did, we recommend the purchase of an unlimited weekly ticket for $ 33.
Before leaving to America, we agreed that our wallet is too thin to reserve a hotel on Manhattan, so we rather choose Airbnb and reserve a great apartment with a crazy friendly host on a great location. Despite staying in the infamous Harlem district, we felt safe and we was surprised by the kindness and courtesy of the locals.
Why even go to New York? To this crowd? Is it not expensive there? Yeah, it's really crowded and we really wasted more money than we would elsewhere, but the sense of smallness among these buildings was something special, something unforgettable. You can hardly imagine the size of this concrete jungle. The architectural icons such as Empire State Building, Rockefeller Center, Chrysler Building and the World Trade Center really stand out.
Must do in NYC? Climb to one of the skyscraper and admire the city from above. With an express elevator up to the 86th floor, we rode onto the Empire State Building and a couple of floors lower to the Top of the Rock, Rockefeller Center. Both buildings have open terraces and infinity views across the city. For each attraction, you will have to deduct $ 35 per person.
Since everything is not just about buildings, New York also has a magnificent park – otherwise artificial but huge! Central Park is located right in the middle of the city and is 3,5 square kilometers big, it has 26 thousand trees, 9 thousand benches and 7 lakes… what numbers! In addition to the artificially planted nature, there are also a couple hundred of fearless squirrels, which fulfill this ecosystem and you literally met them on every step you take.
Along the park are the Museum of Natural History, the famous Guggenheim and the Metropolitan Museum of Art. This is just a handful of the most famous museums in the city! Entries range around $ 35 – but we have great saving trick for you, instead of buying ticket, just donate any amount of money and admire exhibitions for less than $ 1! We do not like museums, so we admit we had visited just one. Oops! We can't help ourselves, we rather explore streets! 😁
Top of the top? Statue of Liberty! Definitely! This steel structure weighs more than 220 tones and is as high as 93 meters. It is located on a small island, just a few minutes boat ride from the Battery Park in Manhattan. The statue, which, according to its original plans, should stand at the Suez Canal in Egypt, has landed in New York as a gift from France at the 100th anniversary of American independence. A ferry ticket, stop on Ellis island and a tour around the statue will cost you $ 18, if you would like to walk about 400 stairs up to the Liberty's crown then you will have to pay some extra bucks.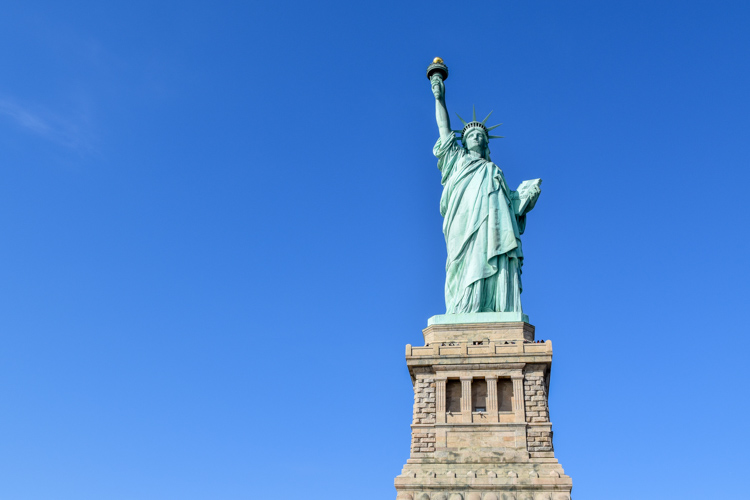 Of course, all this walking between skyscrapers and parks requires some energy. Food in New York is crazy expensive, prices both in stores and in restaurants are mostly up to three times higher than in Slovenia. America is known for its fast food or so-called "junk food", but with a little ingenuity it is possible to find something healthier and still relatively cheap. We recommend Barilla restaurants where you will deduct around $ 13 for dish of pasta and around $ 15 for tasty pizzas.
So… is New York really worth of visit? Definitely! New York will impress you and we assure you that walks between the gloomy skyscrapers are something special and the feeling when you know that you are standing in a city you are every day watching on television is truly amazing. Do you need an additional reason? Well, in addition to everything mentioned above, do not forget about fast food fastening and obligatory shopping.
S & B