From national parks and beautiful nature back to »civilization«, into the vast cities of the West. First things first, after the Grand Canyon tour, we drove to Williams, a small town known for the legendary Route 66 – a road that connects the whole America, from Chicago to Los Angeles, with a length of almost 4000 km! However, the new motorway sections are wiping out history, leaving only a few more parts of the original road, which, however, is becoming more and more popular this days. Williams is just one of the cities that has been able to use all of its history very well. Rock'n'roll, old American classic cars, beer and greasy grilled dishes… all these are the things that attract more and more tourists. Just a dozen miles away, in Seligman, we were lucky that »Fun Run« was on the same day of our visit – an event where, hundreds of legendary American cars drive down the Route 66 each year. Just the wet dreams for everyone who love sounds of the engines and smell of the petrol!
After a quite lively drive, we turned into a smaller and less-known national park, Joshua tree. Compared to previous ones, where we mostly admire the canyons, this park is mostly flat, with many cactuses and a number of interesting rocky masses, among which Skull Rock, the rock in the form of a skull, is most prominent.
Next stop, Palm Springs, a modern oasis in the middle of a desert with many resorts, golf courses, swimming pools… the right place for relaxation, fun and excellent carefree holiday. Despite the fact that the city is huge, it is all concentrated on the main promenade, Palm Canyon Drive. There are many restaurants, bars, souvenir shops… the street is especially revived in the evenings, when thousands of people overwhelm it.
We spent a lovely night in Palm Springs, and then we went to San Diego, but we made two quick stops in Borrego Springs and Julian. Let us first describe the first stop – a small town, which is surrounded by the gallery in the middle of the desert called Galleta Meadows, where 130 huge iron, scarred sculptures made by artist Ricard Brecede are waiting for you. You will find practically everything there, from more than 100-meter long dragon to dinosaurs, elephants, insects and other representatives of the animal kingdom. However, get ready for extreme temperatures; we were there at almost 43 °C.
Are you having a sweet tooth like us? Are you always looking for a right, original dessert? Then you have to stop in a small rural town called Julian, known for freshly baked delicacies. A long and winding path awaits you to get there, but in the end, you will get really sweet and delicious apple pie. Prices can be slightly high, you have to deduct $ 4,50 per piece… but you will probably not eat a better piece of pie anywhere else in America.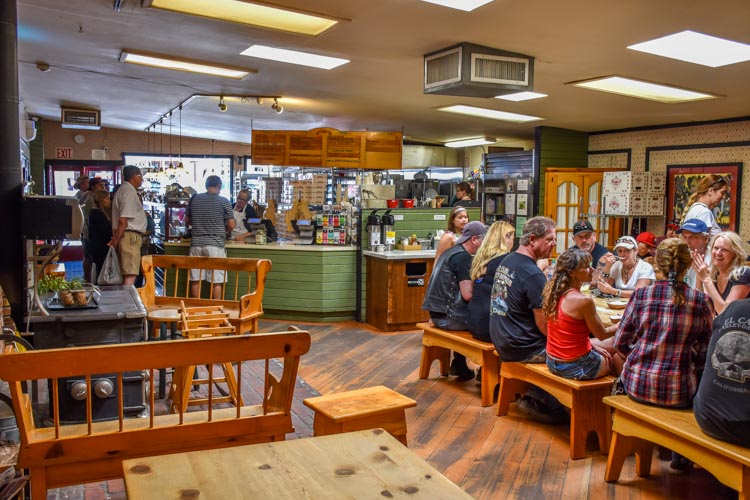 From the village to the southernmost point of our trip, to San Diego. Friends and acquaintances were enthusiastic about it, but it did not impressed us at all. Well, we don't want to give you false impression about it, maybe with a little more research we could find something that would fascinate us. However, the first impression of sadness really was not what we wanted.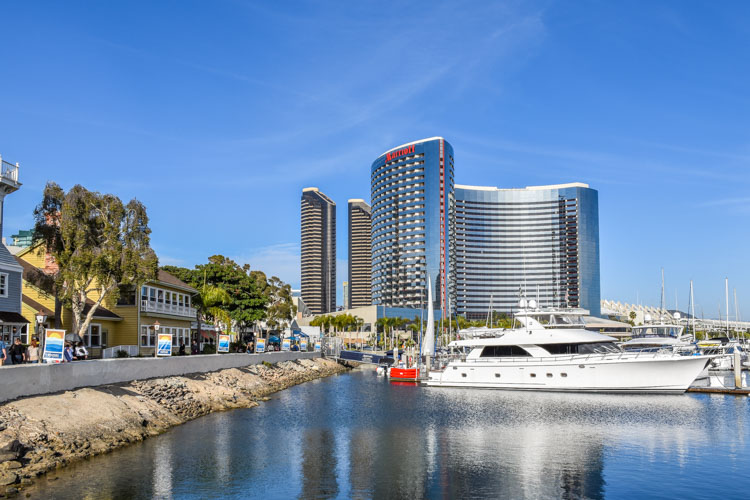 Now, best for last, Los Angeles. Right after the New York, the second largest city, known primarily for the film and music industry. It almost have more people than the whole Slovenia! We did not wanted to stay in this city hustle, so we rather find a place to stay near the beach in Santa Monica.
When we were planning this trip, we were not sure if we would still be using the car or we rather use public transport. We decided on the car and we choose it right. Relatively long distances around the city are much easier and faster to beat by car than with trains, buses and metros, especially in the system, which is far away from the one they have in New York. Here in Los Angeles is practically useless. Firstly, we went to the Griffith Observatory and enjoyed a panoramic view over the whole city, and indeed, we saw the famous Hollywood sign from far away. At first sign served only as an advertisement of a real estate agency, but now it is considered as one of Los Angeles's main attractions. However, what would be Los Angeles and Hollywood without superstars of the entertainment industry? He city has therefore honored them with the Walk of Fame – a 2,3 km long sidewalk, with more than 2600 stars, who in one way or another left their mark in the world of entertainment. It definitely awaits you quite a few steps to find your idols 😁 but it is not that difficult.
Los Angeles however is not only known for the film and music industry, but also because of sports events. Kobe Bryant and Shaquille O'Neal? Only two of the many basketball legends that were »born« at the Staples Center. The cult sports hall, where also playing Anže Kopitar, a hockey star of LA Kings.
From the city to the beach, in Santa Monica and Venice Beach. The Santa Monica Pier, a pier with restaurants, old-school gaming machines, streets artists, souvenir stands, thousands of people and even a roller coaster, surprised us. About 4 kilometers away is a slightly different, but much more relaxed and modern beat of LA, Venice Beach – a paradise for skaters and graphite artists.
S & B