Istanbul is a city that has a little more than others, with its unique vibe, it attracts many visitors every year who spend just couple of days in the city or even take a longer vacation. Bargaining on stalls, strolling between more or less well-known landmarks and enjoying delicious and especially affordable food – these are just a few reasons why Istanbul is definitely worth a visit.
Short plan for your first visit to Istanbul:
You arrive in Istanbul during the day, get comfortable at the hotel and go for a pleasant stroll around the area, take a seat in nearby restaurant for one delicious and above all, a cheap dinner, which you end with a good portion of famous baklava
Start your day by visiting the city's most famous mosques, the Blue Mosque and Hagia Sofia, which in fact is now officially no longer a mosque but a museum. After that, take a short detour to see the Constantinople Hippodrome, Theodosius Obelisk and the Basilica Cistern. End your day at the Grand Bazaar, where you can test your bargain skills.
Visit one of the many mosques, the Süleymaniye Mosque and stroll among the stalls at Spice Bazaar, buy some tea, herbs and take a bite or two of traditional Turkish Delight. Take a tram to the opposite bank, where you can walk up the hill to the Galata Tower, from which you can enjoy in a magnificent panoramic view of the city. Continue your way through modern Istiklal Street, all the way to Taksim Square.
Spend your last coins to buy souvenirs or some Turkish Delight and slowly get to the airport.
What to pack?
–   Map
–   Scarf (for entry to mosques)
–   Shorts and T-shirts
–   Bargain skills
–   Empty suitcase (for shopping)
–   Camera
–   Sunglasses
Other tips!
Food.
Forget about weight loss and the vows. Get ready for a little greasy but very delicious food. Burek, pizza, meatballs and of course kebab in many forms. Istanbul's food is really cheap, which is just another reason to try as many Turkish dishes as you can. However, we should not forget about the sweets, baklava and baklava-like dessert, which are sold per kilo and you can find them practically at every corner.
Airport transfer to the city.
No matter from which end of the world you will fly to Istanbul, you will most definitely land at the new, modern Istanbul Havalimani Airport, which was opened in 2019. The airport is a good hour drive (depending on the traffic condition) by bus from old city centre. For now, beside taxis, this is the only and most importantly, a very convenient connection between the airport and the city centre (return ticket approx. 6€ per person).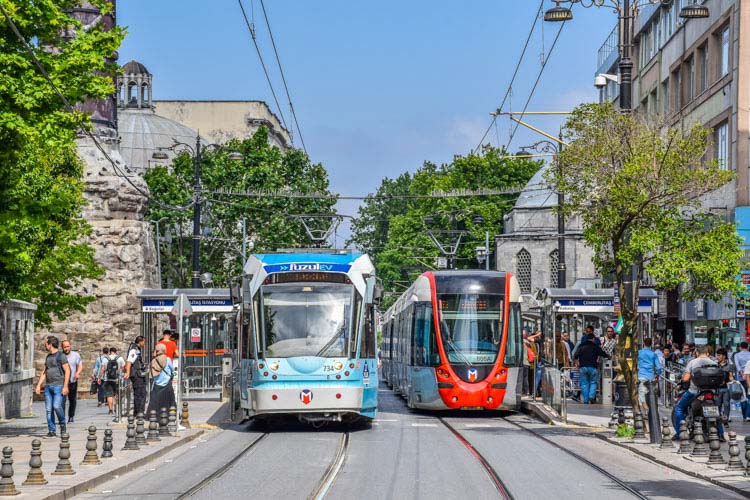 Accommodation.
Don't know where to look for a hotel? We suggest you to reserve it somewhere around Sultanahmet – the old part of town, where are most of the main attractions, which you can admire when sitting in many restaurants, patisseries and cafes. Nearby is a tram station that takes you directly to the newer part of town. You practically have all in one place. The choice of accommodation is huge, and the prices are quite reasonable.
We stayed at the Miran Hotel and we were very pleased (for 3 nights with breakfast for 2 people we deducted about 140€).
Money.
For paying in Istanbul, you can mostly use bank cards (Maestro and MasterCard), with which you will also get a better exchange rate, compared to one in exchange offices. We recommend that you change cash in small amounts, because you will only need it on stalls at the bazaars and when you visit Galata Tower, since they don't accept cards.
Estimated travel costs for 2 people.
Before traveling:
–   Lonely Planet: 19,00€
–   Airplane ticket Venice – Istanbul – Venice: 150,00€ per person
–   Transport to and from the airport (fuel and tolls): 60,00€
–   Parking at Venice airport: 7,00€ per day
–   Travel insurance: 9,50€ (5-day insurance per person)
On the trip:
–   Accommodation (with breakfast, double room with bathroom) approx. 140€ (3 night for 2 persons)
–   Food and drink: 25,00€ per day for 2 persons
–   Bus from the airport to the city (return ticket): approx. 6,00€ per person
–   Tram (card + 4 rides): approx. 3,00€ per person
Additionally:
–   Souvenirs: 20,00€
–   Galata Tower entrance fee: approx. 5,50€ per person
–   Hagia Sofia entrance fee: approx. 11,50€ per person
Total costs for 3 days' vacation in Istanbul for 2 persons: approx. 680,00€
In this calculation we included all possible costs (from the purchase of a Lonely Planet guide, insurance, transportation to the airport etc.), which, of course, can be quite different from one person to another and can dramatically change right from the start when we buying an airplane ticket.
S & B