With 115 islands, the Seychelles are definitely a dream destination for those who want to lying under the palm trees on long sandy beaches, swimming and snorkelling in a turquoise blue sea, admiring nature and generally enjoying the tranquil atmosphere that reigns on virtually the entire archipelago.
8 days of searching for the most beautiful beach: a travel plan
Day 1: Venice – Istanbul – Mahe – Adrenaline flight to Praslin
We flew from Venice to Mahe via Istanbul, and then with a small plane, that takes only 16 people on board, to the island of Praslin. An adrenaline ride, which, at one moment, leaves you speechless because, whether the fear or admiration of beauty 😁
Island, a dream destination for lovers of nature, beautiful beaches and national parks. Take a boat trip to the island of Curieuse and make an unforgettable selfie with a giant turtle.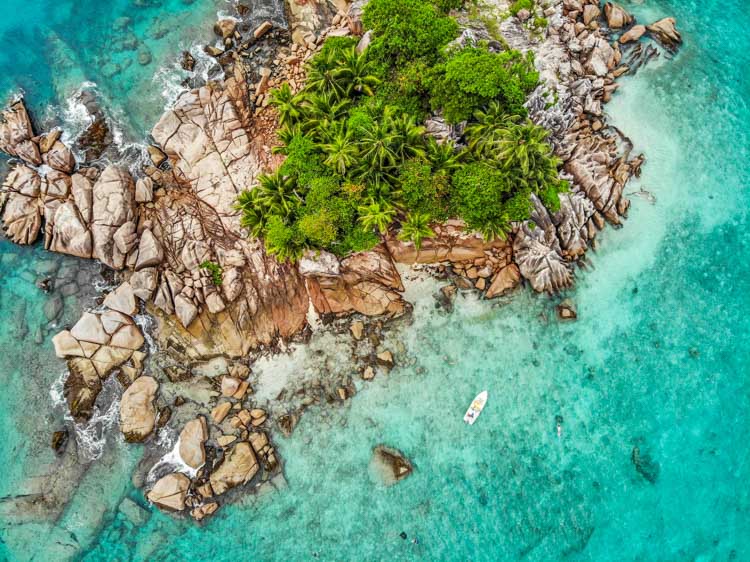 Jump on the bike and go with a flow! Island is just few kilometers long, so take a ride and visit one of the most beautiful beaches in the world Anse Source D'Argent.
Go to the Victoria, capital of Seychelles, and walk between the stalls at the Sir Selwyn Selwyn-Clarke Market. Treat yourself with a glass of local rum in Takamaka Distillery or with a cup of tea in the middle of a mountain plantations. Well, we are still on Seychelles, so there is also beach or two on the island 😎
What do you need to pack?
–   GPS (downloaded application on the phone)
–   Mobile phone car charger
–   Travel power adapter
–   Shorts and shirts
–   Swimsuits
–   Mask and snorkel
–   Bath towel
–   Sun screen
–   Sunglasses
–   A lot of good will
Other tips!
Food.
Seychelles are really not exactly a paradise for gourmet enthusiast, but there is something for a grill-lovers, especially for those who adore fish and other seafood delicacies. Local cuisine is kind of mixture of Asian dishes, such as various types of curry and specialities from grill. You can also find pizzas, which give that Italian touch, but have in mind that those are pretty expensive. You can enjoy in the real authentic »creole food« in small, more domestic »take-away« restaurants, where you will also deduct much less money than in restaurants.
Accommodation.
If you do not have a couple thousands of euros that you could spend on staying in luxury resorts along most beautiful beaches, then we recommend you to book an apartment or a room with the locals. The choices are endless, but do not hesitate too long to reserve an accommodation, because those on great locations or the cheap ones go quickly of the market. To book accommodation on Booking.com, use this link (click) and get 10 % of the amount back when you get back home.
On the island of Mahe, we can recommend the Marie Laure Suites.
Car rental.
At first glance it does not appear that it would make sense to rent a car on such small islands, but believe us that when it comes to exploring all of those beautiful corners, it really comes handy. Do not let that narrow roads, driving on the left side of the road, practically no public lighting and small cars deter you from renting a car. Anyway… you are on vacation, so you can easily afford a leisurely and tranquil driving, because the roads are mostly empty.
On the island of Praslin, we recommend renting a car at Bliss Car Hire.
Money.
Do not rely solely on credit card payments, because in most supermarket there is a minimum amount of payment set at 100 SCR (approx. 6,5€) when you want to pay with a card. Change money in private exchange offices, as rates are much better than those in banks. Renting a car, accommodation, boat excursions can easily be paid with euros.
Estimated travel costs for 2 people.
Before traveling:
–   Lonely planet: 21,50€
–   Airplane tickets Venice – Istanbul – Seychelles – Venice: 1.040,00€
–   Plane Mahe – Praslin: 150,00€
–   Transport to and from the airport (fuel and road tolls): 60,00€
–   Parking at the Venice airport: 50,00€
–   Basic travel insurance: 25,00€
On the trip:
–   Accommodation (with breakfast, double room with bathroom): approx. 100,00€ per night
–   Food and drinks: 30,00€ per day
–   Car rental: 40,00€ per day
–   Fuel: 30,00€
–   Two-day bike rental on the island of La Digue: 35,00€
–   Ferries: 150,00€
Additional costs:
–   Souvenirs: 20,00€
–   Boat day trip to the island of Curieuse: 170,00 €
–   Other entrance fees: 40,00€
Total cost of 7-8 days trip to Seychelles for 2 people: approx. 2,900€
S & B