After we spent two nights in Las Vegas, we continued our roadtrip across the United States. First we made, one quick turn. We drove to Hoover Dam, a 200-meter high dam that stands on the border between the two states, Nevada and Arizona. For over 100 years, this huge technological creation has attracted thousands, and recently more than a million visitors per year! There are relatively many parking spaces near the dam, but you will have to deduct $ 10 per day for one of those spots. You can save yourself some money and drive up the hill about 100 meters further, where you can park your car for free.
Enough concrete! We are returning to the America's wildlife, more precisely in Zion Park, the national park, where we went after spending the night in small town, St. George. Unfortunately, this time the weather did not worked with us, and the plans fell into the water, literally. Zion is almost entirely intended for hikers, which we are not. You cannot drive by car inside the park, but you can take a free shuttle, which is running on hop on-hop off principle. From each bus-station is then possible to walk or even climb to certain sights (waterfalls, canyons and other interesting rocks…). If you want to seriously explore this park, we suggest that you bring a good waterproof hiking boots. There are couple of 15 or more kilometers long hikes. Therefore, you cannot say that we did not warn you 😀
The next national park on our list was Bryce Canyon near the village of Panquitch, where we slept for one night. In comparison with Zion, entry to the park is possible with a personal vehicle. There are also shorter and significantly less difficult walks/hikes. Best way to admire this canyon is by going from one viewpoint to another, which are arranged along the main road. Beautiful views awaits you at Sunrise, Sunset, Inspiration and Bryce Point. If panorama does not convince you and you would rather test your hiking skills, then just go down to the bottom of the canyon and admire this natural wonder from another angle. In addition, one more thing, for all comic enthusiast, there is famous rock named Thor's Hammer. We were also positively surprised over spacious parking spots, very well arranged, and marked routes.
We continued our journey across American canyons in small town called Page, just a few minutes away from the beautiful Antelope Canyon, which is divided into Lower (cheaper, less visited) and Upper (more visited, more beautiful, more expensive). Unlike other national parks we have visited, this one is payable (not included in the annual pass) and it is only possible to visit in a group, with tour guide. Due to great interest, the tickets are sold out for several months in advance. Nevertheless, it is always possible to find a spot or two. We got two at Ken's Tour, agency near the canyon. Price? Two tickets are $ 100, but still the best spent money on our trip. The 500 meters long narrow canyon that has been shaped by the power of water for millions of years is simply wonderful. In the morning hours, sunlight rays comes in and make scene incredibly photogenic. More than 3000 people per day visit Lower Antelope Canyon, in the main season even more than 7000 people! Another warning… because of the lack of space, it is not permitted to carry backpacks, selfie sticks and that kind of things, you can just have a bottle of water and camera (GoPro was also forbidden).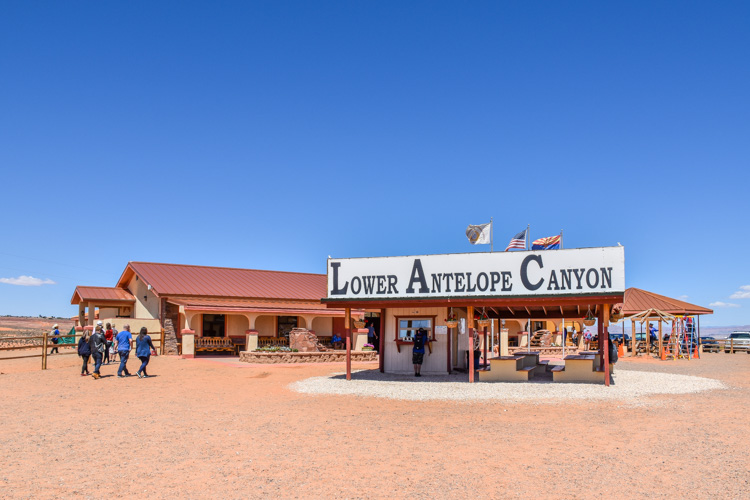 Page is not perfect starting point just for visiting Antelope Canyon but also for magnificent Horseshoe Bend, which is only 10 kilometers away from this small town. Meander in the shape of a horseshoe is probably the most fascinating natural sight of this part of the US. The kilometer deep gap on many photos looks much more innocent than in reality. The size of this canyon, through which flows the Colorado River is unbelievable and it is interesting that there is not even a meter of fence!
We saved best for last → one and only Grand Canyon! Almost 500 km long, 30 wide and 2 km deep canyon truly deserves it name. It attracts more than 5 million tourist annually. If there are not enough views and panoramas for you, that we suggest that you go on a raft or book your seat in a helicopter from Las Vegas and look at this huge national park from the completely different angle.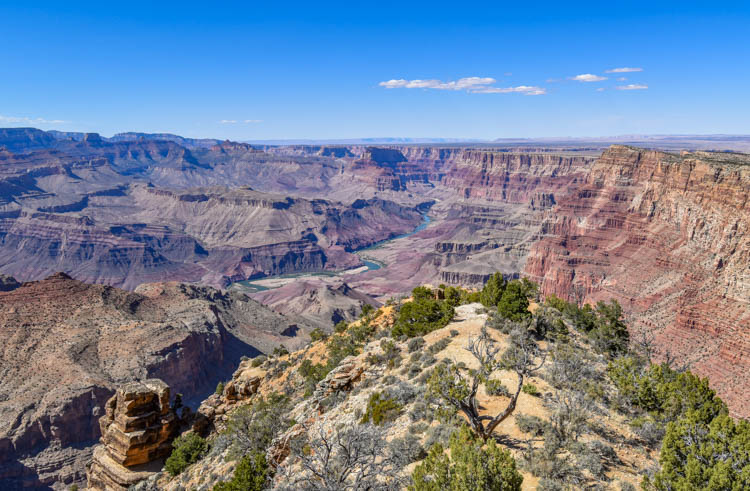 If you enjoy walks, hiking and like rocks, stones and indescribable panoramas, then you must visit all of above described natural wonders. It is really a wonderful nature and it truly different from what we are used to in Europe. We just enjoyed it!
S & B