Rhodes is one of the most visited and the fourth largest Greek island, offering visitors quite a few beautiful beaches, hidden coves, and some cultural and architectural landmarks from recent as well as slightly more distant history. It is definitely a destination where you can see all the main attractions, due to the relatively short distances in just couple of days and at the same you will still have some time to enjoy sunny weather and lounging on the beach.
If you are not fan of surfing, kiting and similar sports, we recommend you to find your accommodation on the east side of the island, maybe along the long sandy beach Faliraki, as we did. The eastern part is considered to be much less windy than the west, but at the same time the offer of hotels is very diverse and you will most certainly find something for yourself (our hotel was this one – link).
Faliraki was also proven as a great starting point for island exploration. It is only 16 km away from the capital, Rhodes, known mainly for its old town, located within the mighty walls. It is the oldest still inhabited medieval city in Europe, where medieval buildings, mosques, fountains, churches and of course shops, bars and restaurants intertwine as one, which gives the city a special charm and picturesqueness. The main attraction in the city is certainly the Grand Master Palace, a huge and very well-preserved palace where you can now, for 6 € see what the life of the rulers looked like a few centuries ago. Also worth a visit are the Suleyman Mosque and the city's main square, Hippocrates square.
A must-see is also Lindos, considered by many to be the most beautiful town on the island, built at the foot of the hill on which the castle stands – and within it, the famous ancient acropolis. Best way to get to know the place? Follow the signs on the white house walls that will lead you through many streets, at times very slippery paths, past many souvenir shops and traditional restaurants to the main attraction – the Acropolis of Lindos. The entrance fee is 12 € and provides beautiful views of the bays of Lindos and St. Paul. Of course, you will also get acquainted with the various historical events that have been taking place on this hill for almost 3000 years!
On the way from Lindos to the capital, it is also worth visiting Tsambika, especially the pilgrimage church there, to which you must climb approx. 300 steps. Church is really nothing special, but from there you will have some beautiful views of the sea, beaches and even the hills.
Not far from Faliraki towards the capital is Kallithea Springs, an ancient spa with a popular beach and museum. The entrance fee is 3 € per person for all-day enjoyment by the sea.
Of course, you can also see a lot on the west side of the island, well … a couple of historically important attractions, and that's all 😊 two castles – Monolithos and Kritinia and the remains of the ancient settlement, Kameiros.
To move around the island, we warmly recommend renting a car, which you can rent for approx. € 30 to € 35 per day (smaller models such as Peugeot 108, others are of course more expensive). With parking, with the exception of the capital, you won't have any major problems, and most of them are practically free of charge all over the island. At the time of our visit, we were a little surprised by the fuel prices, which were extremely high, but given that, this is a relatively small island and that you will probably only do a couple of 100 km (we did 390 of them), consequently the gas price will not represents a high cost at all.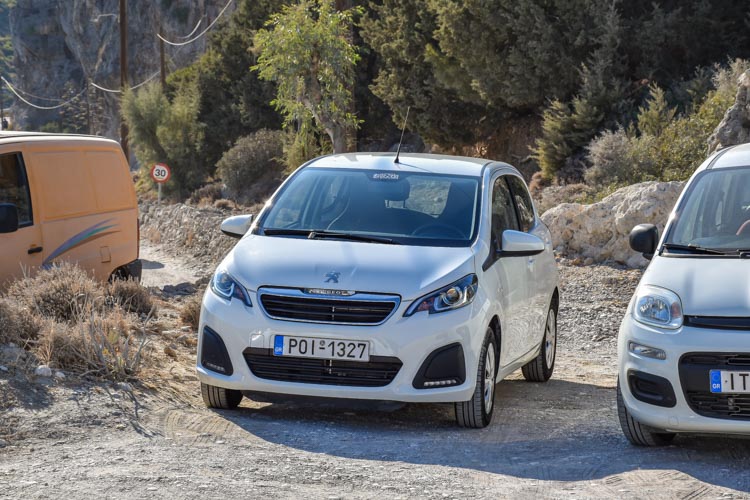 What about the beaches? Of course, Rhodes is an island and consequently there is no shortage of beaches 😎 Usually the most convenient is the "hotel" beach, where you have everything at hand, but sometimes it pays off to drive a little further down the road and enjoy somewhere else. We were generally positively surprised by the beaches on Rhodes, especially in terms of tidiness. Each one was very clean, with deck chairs and even showers. We were most impressed by the beach in Lindos and Anthony Quinn Bay … but there are definitely a lot of beautiful ones that we didn't manage to visit.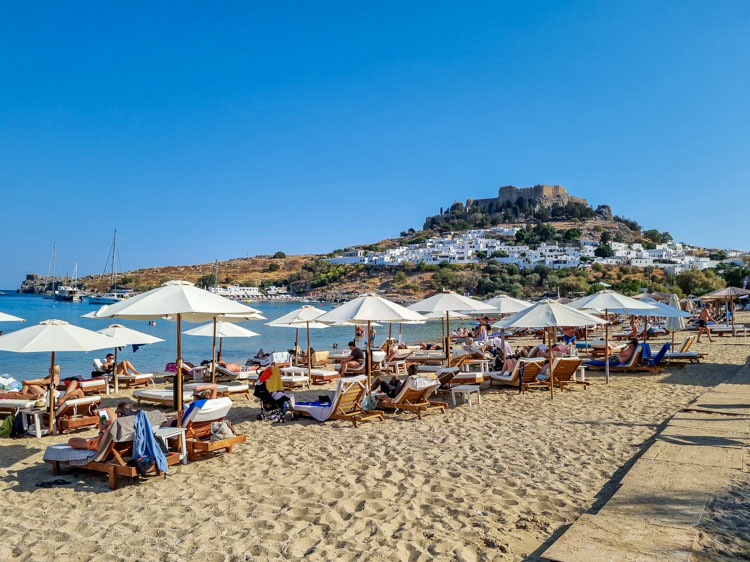 You would definitely like to read a word or two about Greek cuisine, but this time, we have to let you down, because we ate gyros 24/7 😁 yes, we were definitely real gourmands 😄 But maybe for those who do not know this dish – it's a dish very similar to kebab, but in a slightly different loaf (bread), in which is sliced meat (chicken or pork), tomatoes, onions, french fries and tzatziki sauce made from Greek yogurt and fresh cucumbers.
That's all what we have to said about a trip to Rhodes. But anyway, we wrote down couple of ideas, which we hope will come handy 🙃… Greece is becoming more and more interesting to us and this is definitely not the last island we visited.
S & B