What is the best thing to do after a 12 hours of sitting on a plane? Take a hot shower.. well, even the cold would be great, but we didn't get any of this in Matanzas. Such a bad luck for us.. just when we arrived, they had a problems with ruined pipe. Anyway, we came to this place because of the relative closeness to the airport (approx. 20 km), significantly cheaper accommodations – as the same remote, but more touristic Varadero – and a good bus connection to the Havana, which was our first real stop on Cuba.
Speaking of bus transport.. there are vehicles owned by company Viazul, which are intended solely for tourists and they drive to all major tourist areas on the island, and so goes for prices, which are not that cheap. One more thing.. book your transport at home, because it might happened that your bus will be completely full on the day you will want to go somewhere. Btw, we got the last two seats from Matanzas to Havana.
Well, back to Havana – the capital city of Cuba, which was in the course of history in the hands of Spanish and British immigrants, the American mafia and revolutionaries. The present appearance of the city is roughly divided into three parts, Havana Vieja, Centro Havana and Vedado. The first is the most famous for its sights, in the second you will witness the real life of the locals, in the last one you can stay at the most luxurious hotels, indulge yourself in the many restaurants and party in the best (and probably the most expensive) night clubs. Irrespective of the area, eventually you will be accustomed to the city and indulged in rhythm of Cuban music that will take you around.
Hmm, where to start? Cars are definitely memorable! Huge machines that are stuck in time and whirring on those roads for at least 50 years. American classics in vibrant colors are a real feast for the eyes, especially for us Europeans, who do not see that kind of cars in everyday life. Well, they really rocks!
From the roads to the streets.. full of restaurants, souvenirs, decorations and live music. Obispo Street? You cannot simply pass it! It starts with El Floridita – bar, which is well known for its daiquiri, a drink, which was always ordered here by Ernest Hemingway, his statue still rests by the bar. However, when you will getting through the crowd of passers-by and will already have a bag full of souvenirs for your family and friends, just relax in the Cafe Paris. It is known for its daily live music and tasty, relatively inexpensive food.
Leave the food behind and take a drink or two. In a shop is more difficult to get a bottle of water than a bottle of rum. Yes, it is true! And where pour the hectoliters of this thing and create a popular mojito with it? Cocktail made with white rum, mineral water, mint and sugar, is the trademark of the restaurant La Bodequita del Medio. However, walls full of signatures and other doodles should not surprise you, because here every guest can sign on the wall and leave their mark.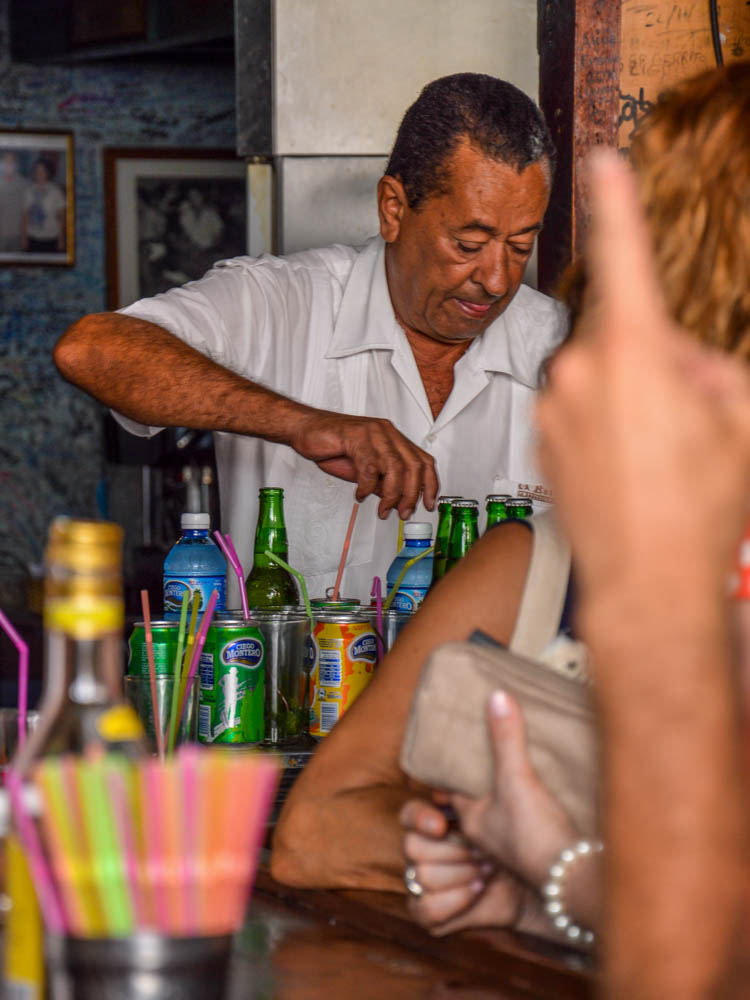 Havana also have many museums and some of them are really good – and tasty – especially the chocolate one! However, the pub with a few cabinets in which they display object, which are important in the manufacture of chocolate, is hard to be called a museum. However, is the only one where you can order super cheap and delicious cup of hot chocolate for only 0,55 CUC, or choose between different chocolate pralines, among which are some also filled with the most famous Cuban drink, white rum Havana Club.
At the other end of town, in Vedado district is the Plaza de la Revolucion, a space dedicated to major political events, especially interesting because of two giant portraits of Che Guevara and Camil Cienfuegos on the buildings opposite the statue dedicated to Jose Marti. Due to the distance from the old city, we recommend you to take a taxi.
Havana is Havana, and it is awesome here!
S & B