Why should we, on every sunny summer weekend escape to the beach? Do you really want to move in slow motion on the motorways to the south? Probably not! That is why we jumped to the north this time and served you with this great idea for a wonderful one-day trip, just 380 km from Ljubljana.
Vienna, 2 million Austrian capital, really impressed with summer vibes, really an opposite as a dark and rainy version around Christmas festivals.
We started the day in Schönbrunn, a huge city park; know primarily for the castle or a palace with the same name, with nearly 1,500 rooms. With its centuries-old history attracts many tourists, especially those who love history and architecture of that time. Royal's residence also include a beautiful park with many gardens and even a zoo, with as many as 750 animal species. Visit to the exterior of Schönbrunn or the park is free, everything else is charged additionally (info on the following link).
From the park, straight in the town center, directly to the Stefan square, past the most popular market Naschmart, Karl's Church and Viennese opera. Nevertheless, the most important thing… are you a chocolate cake lover? Perhaps even »world-famous« Sacher cake? Then Vienna must be next destination on your wish list. There is a Sacher hotel, where they for almost 200 year served his »autochthonous« Viennese dessert. And that's exactly where we both afford it! Despite waiting for an empty table and more than 7 euros for a small piece of chocolate biscuit with apricot jam, we can said it really paid off. We maybe even ate the best one ever 😛 maybe.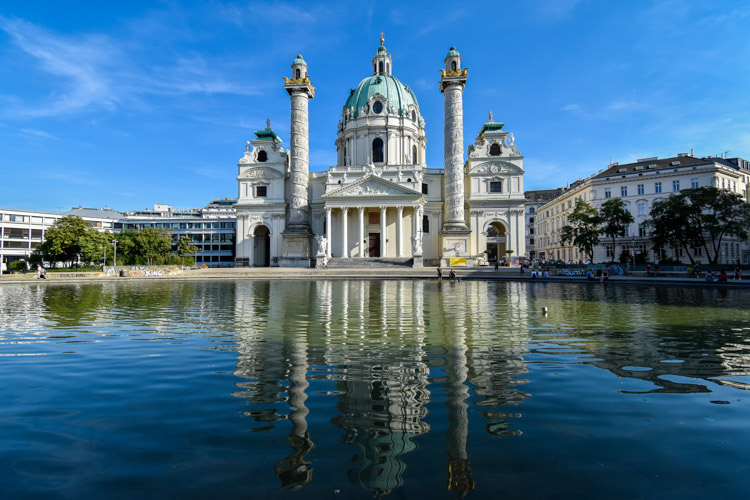 Despite the exceptionally well-organized public transport, the Austrian capital is also friendly to personal vehicles. Parking spaces are practically around every corner, some are cheap, others are much more expensive, but everyone will definitely find their spot. During the weekends, parking by the road at some marked parking lots is even free!
Short but definitely a sweet visit to Vienna. Of course, you can add more excitement to your trip, see some of the many other attractions, buy a ticket for a concert of classical music, or just walk around the town, which we believe hides many not yet discovered corners.
S & B