From the more subdued north, we continued our journey south → to Phuket, which is quite the opposite of what we have seen or experienced so far. The sea, beaches, nightlife and crowds of tourists, and of course, slightly (much) higher prices of food and accommodation.
We flew directly to Phuket from Chiang Mai with Air Asia. The airport is a good hour drive from the sandy beaches and tourist areas, but of course the distance depends on the area you are heading to. We preferred a private van this time instead of a public bus, as this option seemed faster and much more comfortable – they also bring you directly to the hotel and the price difference is minimal (150 THB per person for the bus or 180 THB per person for the van). In return, of course, they prepare a small scam with a stop at their travel agency, where they offer you different offers for accommodation and excursions at incredibly "low" prices. In these cases, you can only hope that one of the passengers in the van, does not bite too much into the presented offers… in our case, the ride was extended by one-hour 😀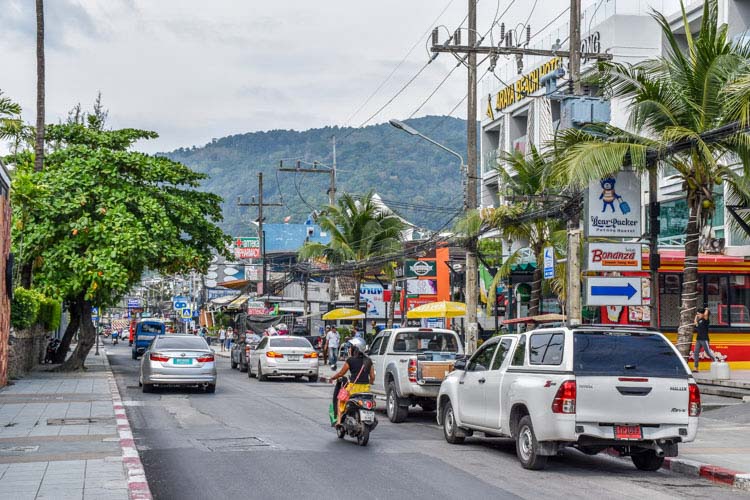 This time we wanted to be at the center of action and have a great starting point for further exploration of the island, so we looked for accommodation in Patong. It is the most famous city in Phuket, especially for its long sandy beach and exciting nightlife. The beach itself has actually surprised us quite positively – it is tidy, clean, offering the possibility of renting sunbeds and umbrellas everywhere, and all the adrenaline junkies can take a ride with water scooter or take a flight with a parachute.
Do you like to party, drink and dance the night away? Then stop in Patong is a must! Well, you just have to find a Bangla Road, a street with many bars, live music and DJs. Grab a beer or a cocktail for a relatively low price – you won't believe it, happy hour prices here lasts from morning to morning 😃 After a few glasses, a hunger will definitely take place, no worries, you can satisfy it at the local night market. It is a food paradise for seafood lovers. Compared to the other night markets we visited, the prices here were at least once higher, but you will still get a decent meal for a good 100 THB (approx. € 3).
If you get tired of lying on the beach, there is a lot of interesting things to do on the island. It is true that there are innumerable Buddhas everywhere in Thailand, in many shapes, forms and colors… The most fascinating for us, was the Big Buddha on Phuket – a huge white statue standing on top of a hill overlooking a magnificent view. If you are not tired of visiting temples, you can stop by at many of them → Wat Chalong or Wat Khao Rang and Wat Mongkhon Nimit located in Phuket Town.
Despite the fact that Phuket or Patong – is practically overflowed with tourists and that most do not recommend the visit, we were (probably due to all previous negative comments) rather pleasantly surprised. A beautiful, tidy beach, tasty food, shops and a whole bunch of different activities that can definitely add something special to you vacation.
S & B