When we speak about United Arab Emirates, each of us first think about Dubai. A modern city on the Arabian Peninsula, which is visited by more than 15 million tourists every year, and the number is rising steadily every year. This is also reflected in the increasingly intense construction of hotels, shopping malls and other attractions that attract even more people to the city.
Until now, we have not ever been in a place with such contrast – megalomaniac projects such as Burj Khalifa, the tallest building in the world and artificial island Palm Jumeriah on one hand and desert on the other. Dubai is evolving at a speed of light and it will surely outgrow its current borders in a few years, and soon they will turn some of the desert areas into dozens or even hundreds of story tall skyscrapers.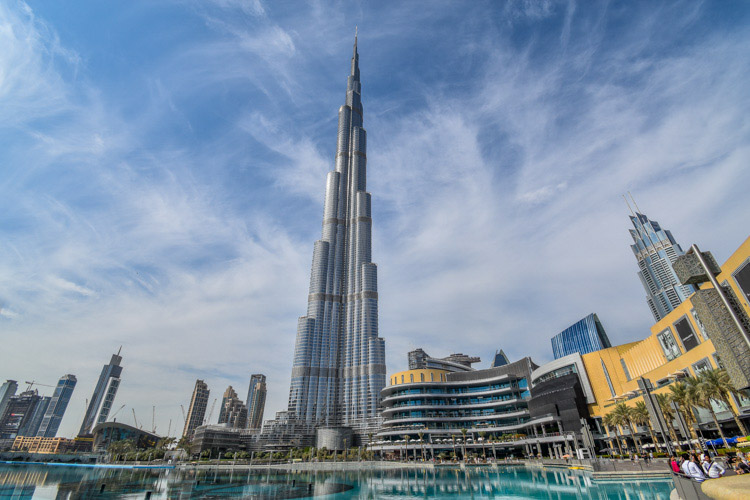 During the visit to Dubai, many forget that in the shade of skyscrapers and behind the splendor of shopping malls, there are also some small pieces of history that can be enjoyed in Deira and Bur Dubai – the parts lying on the opposite banks of the natural Dubai Creek and are recognized primarily for various marketplaces or as they called, souks. Gold souk is located in a few 100 meters long street where shops are literally flooded with gold. Rings, earrings, necklaces, sculptures, everything you can imagine. Above all, the Arabas are famous for spices and fragrances, which are, of course, the easiest to find in spice souk, the sellers offer saffron, cinnamon, curry and even a viagra at their stands 🙂 Would you like to buy their traditional clothes, scarves and headscarves? The easiest way to find them is to go to the textile souk, the marketplace is located in Bur Dubai area, to which you can arrive by crossing Dubai Creek with traditional wooden boat, abra. Drive costs only 1 AED which is approx. 0,25 €, and they drive practically every couple of minutes.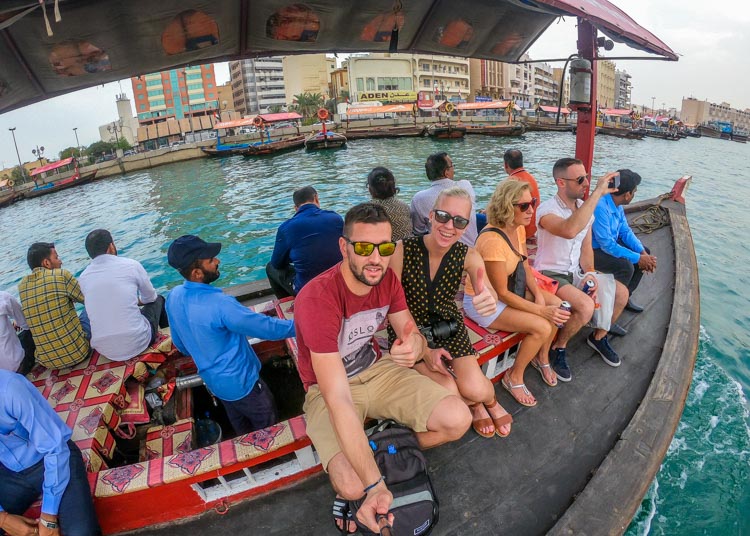 Let's leave the past and focus on the present – the modern Downtown, an area with Burj Khalifa, skyscraper that can boast with more than 800 meters in height and the Dubai Mall, a shopping center with over 1,300 stores, a skating rink and even a huge aquarium! These are two of main attractions in the city, among those two are dancing fountains, which are the best after the dark. If you interested in how Dubai looks from above, then this time you do not need to go on an expensive helicopter ride, instead of that, you can get to Burj Khalifa for about 35 euros (140 AED) with a lift in just one minute. The viewing platform is located on the 124 floor or 452 meters above Dubai! Crazy!
All shoppers definitely should not miss a Dubai Mall. The wallet will not really be most grateful to you, but you will definitely find the things that you always wanted to buy 😁
Just off the coast, an artificial island, the Palm Jumeriah in the form of palm tree, where are the elite real estate sites and one of the largest hotels with its water park and a dolphin pool, Atlantis. The hotels boom in Dubai began with a billion dollars worth of Burj Al Arab, which has only 202 rooms, the biggest one measure 780 square meters, and for one night there you will deduct $ 24,000. But for an additional bonus, you have your own parking of the roof for a helicopter… and this really pays off 😃
If we close it all briefly… the money for Dubai and in general for the United Arab Emirates is not even the smallest obstacle. Whatever they want, they get it or build it – despite all the modernization, the real charm of the Emirates is the desert. Anyway, it's definitely a destination that's different ad definitely worth your visit.
S & B