Our trip to the United Arab Emirates started in Ras Al Khaimah, one of the seven emirates that is approximately two hours' drive away from Dubai and three from Abu Dhabi. The city itself cannot yet compete with the above-mentioned neighbors, but nevertheless, it is developing very rapidly… hotels with private beaches, relatively large shopping centers are being built, and additional tourist offer is expanding → they can boast with longest zip-line in the world!
The choice of the hotel (we stayed at the Hilton Garden Inn) in Ras Al Khaimah is actually great for everyone who loves beach lounging and swimming in the pools… but you can forget about »sights«, night life and other things, which would be around every corner in Dubai.
We can spend about hour or two at the most on the sun lounger, but after that we get bored, so we rather booked the »dessert safari« practically on our first day in Ras Al Khaimah through Get Your Guide.com. And just like that we spiced up the afternoon with an adrenaline drive through the desert dunes.
Despite the fact that desert is practically everywhere, we've been driving a good half-hour to the right one. First, we stopped in the Bedouin campsite, where you can ride camels, quads, try a real Arab coffee and buy souvenirs. After a quick stop, the journey into the unknown began, high speed on the soft desert sand, winding up and down, steep slopes and almost vertical downhill! Crazy 🙂
After an hour of bouncing, slipping, sliding and laughing, we returned to the campsite where we had a buffet dinner, an unlimited amount of soft drinks and we also smoked shisha. There were also fire-eater, belly and spinning dancer. This excellent organized adventure is worth every penny. You can also take a similar trip from Dubai, where you have a lot more providers, and the prices rotate somewhere between 40 and 60 euros per person.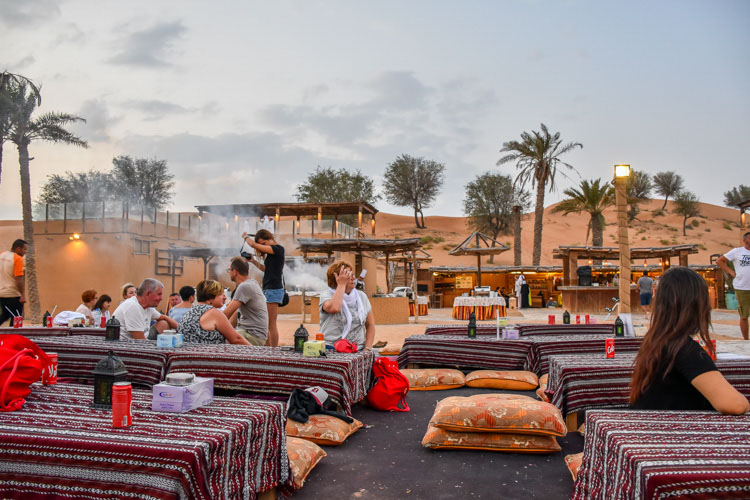 S & B