Even before we turned our thoughts directly to the potential financial savings in Sri Lanka, we would just like to add a few words to the purchase of airline tickets. If you're not interested into this, you can just skip the paragraph without any problems…
1. Plane ticket
In those days there are a lot of global metasearch engines for information on the internet that enables people to find comparisons for flights. Find some and look for the cheapest set of tickets to your destination. Sometimes can prices from day to day swing for a few tens of euros. It is very important that you don't follow the selected sites from the same computer or be careful that when you search, your computer does not record history – otherwise will be with each your click, the desired tickets more and more expensive. You also need to calculate, from which airport you will start your journey. Sometimes it is wiser to pay for a flight ticket € 20-30 more and choose the nearest airport, with which you can save quite a bit of money in transport (example: transport Ljubljana – Venice around € 15 in one direction for one person, Ljubljana – Zagreb € 10, Ljubljana – Milano around € 40).
Our flights search to Sri Lanka started 4 months earlies, via an Austria website Flugladen.at, where the prices were in compare with other, always cheaper. They ranged from € 600 to the final € 438 per person, as we paid. We flew from Ljubljana Brnik and in both directions had about an hour stopover on Belgrade and Abu Dhabi.
2. Public transport
Anyone who has ever travelled on your own, knows that the life of the locals and the locals themselves, you can most easily meet via public transport, which is really special in this country. Far the cheapest way is transport by bus and train, while the transport with tuk-tuk is already a couple of times more expensive (of course all depends with the distance) and price for car transport flies in the sky. First of all, we would like to mention that transportation with bus and train is perfectly safe – each of the locals will be happy to answer any questions and keep you on track, so that any fear is completely superfluous. The only thing you need to face it, is the abnormal crowd. Although at the beginning we have an opinion that we are accustomed to crowds, it's not like this. As it seems that the bus or train is already completely full, Sri Lankans can always get in there at least twice or three times more people. Air conditioning is familiar with the one, which we used in the middle of 90s – only in natural form – the doors and all the windows are all wide open or in the most part just don't exist. You must just get used to in and you will get across the whole country at ridiculously low prices. Worth it!
Examples (for two persons):
–   taxi from the airport to the capital city Colombo: Rs 2,000 (€ 12.9) → bus: Rs 200 (€ 1.4)
–   bus Colombo – Dambulla (170 km long drive, about 5 hours): Rs 350 (€ 2.3)
–   bus Polonnaruwa – Kandy (160 km, 4 hours): Rs 330 (€ 2.2)
–   train Kandy – Nuwara Eliya (journey takes around 4 hours): reserved seat Rs 800 (€ 5.1)
–   train Nuwara Eliya – Ella: Rs 120 (€ 0.77)
–   transportation by tuk-tuk is from Rs 200 to Rs 500 (€ 1.3 to € 3.2) for a relatively short distances
3. Accommodations
Maybe for Europeans seems logical that in an environment with high temperatures will be in each room air condition, that out from the shower always comes hot water, that in each toilet will be toilet paper… but here, this is not exactly like this. So if you are a little more sensitive or, if you like a good night sleep after a long day and shower in normal conditions, we recommend to spend some € more.
We heard that you can always haggle for a price at hotel owners, but we all our accommodations booked in advance via booking.com. We visit Sri Lanka in the peak season and in advance received a pair of warnings that hotels are quite full at that time. This was apparent also at the booking site, because every week were less rooms and all at higher prices. In addition, we didn't want to take risk and by seeking accommodation spend too much time, which we already didn't have enough. For bed with private bathroom, air conditioning and breakfast we payed € 28 in average. If you do not want to have such a "luxury", you can always get a room for two for just a few €.
4. Food
Do not look in the kitchen and you will enjoy in the food! Inns tend to have an open kitchen, in which is more cluttered and less cleanliness as in our country in any workshop. They are not familiar with Haccp system which we have in Slovenia, but nevertheless – everything we got on the plate was really very tasty. The real Sri Lankan lunch you can afford to approximately from Rs 200 to Rs 500 (€ 1.5 to € 3), the portions are huge – chicken rice and curry, chicken biryani or chicken fried noodled verified excellent. Of course, you have the option to visit a better restaurant, which among other things also offer European food, but price correspondingly also considerably increased.
Snacks you can easily afford in one of the stalls for a mere 10 cents, or roughly for the same money you visit a bakery, where for us – due to burning hell fillings and various stuffing in bread – was not exactly ok. However, you need to eat fruit! There are so many types of bananas, juicy pineapples, papayas and watermelons, which you simply cannot ignore… especially not for this price, example: for banana you will pay around 6 – 10 cents (€).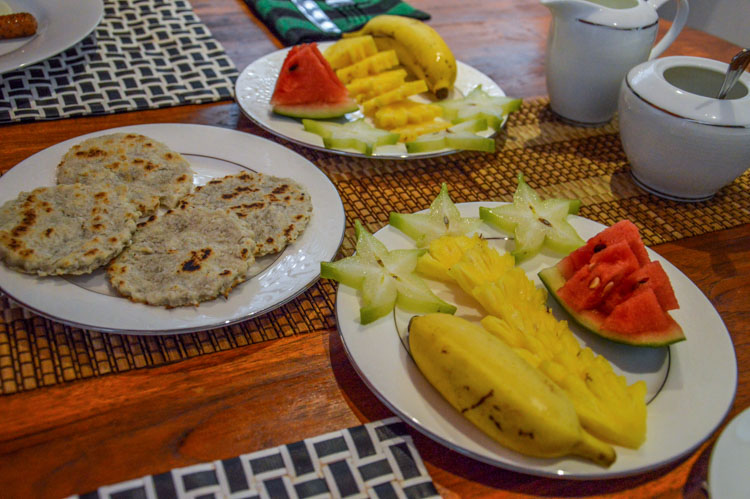 5. Entrance fees
If the above paragraphs were about cheap life in Sri Lanka, all together turns with the prices of entrance fees – especially when it comes to the tourists. For us are admission for some multiples higher than for locals. Of course, they are well known, that, if you came in their country, you have no other options as to pay money for their sites… nevertheless, they somehow need to earn some money.
Entrance fees for certain sights (per person):
–   Lion's Rock in Sigiriya: Rs 4,200 (€ 27)
–   Polonnaruwa temple: Rs 3,000 (€ 19.3)
–   Elephant Orphanage Pinnewala: Rs 2,500 (€ 16.1)
–   Pedro Tea Factory Nuwara Eliya: Rs 300 (€ 1.9)
–   Yala National Park Safari: Rs 5,000 (€ 35.5)
This is all by our side – for the time being 🙂 in case you need some extra information, we are always available.
S & B