Barcelona here we are… we flew for the first time with less well-known Spanish low-cost carrier Vueling. Small, half-empty aircraft, a lot of comfort and a 15-minute short flight than planned. This was followed by – in comparison with other countries – very well organized transfer to the city centre. Bus carrier Aero bus drives to the main station Catalunya onto every 5 – 10 minutes, and from there we just switched to metro and practically already walked into our hotel, which was only a stone's throw away from the station Lesseps. But here we faced a one minor problem. We reserved hotel from home, but since we reserved airline tickets as well we used up almost all the limit on our MasterCard and because of that our advance hotel reservation was not successful. After 5 minutes of silence, contemplation on the computer screen and the constant typing on the keyboard, receptor then finally give us one of the hotel room. Moral of the story: if you book hotel in advance, at least check whether the reservation was successful 🙂
Where to start? Of course, on the main promenade in Barcelona, on the main street called La Rambla, which takes you from one of the main squares, Plaça de Catalunya and all the way to the port. At every moment you feel the hustle formed by many tourist, shops and restaurants have various offers here. Mainly women representatives would likely to be interested in the information that can find a store of a Spanish provider of clothing Desigual on every corner, but the prices are completely identical as those in Slovenia, only the offer can be a bit more varied.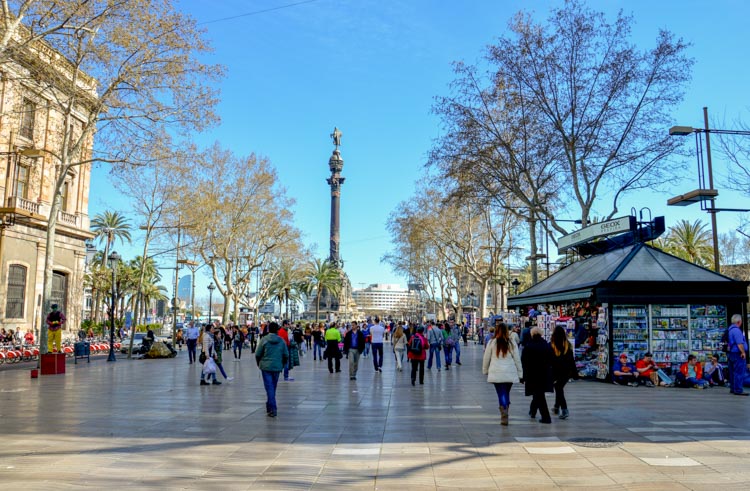 After a few minutes, we stooped at front of one of the most famous markets in the city centre – El Mercat de Sant Josep, where you can find practically any dish you at the moment wish for just some euros. You can choose from chocolate candies, beautiful sliced fruit to the completely unknown fishes and live lobsters. Well we encountered on prosciutto at the price € 100 for half of kilos 🙂 Virtually all in one. But don't try to look for souvenirs, clothes and similar things, because you won't find any. On this market it is all held together only by the title of food – such and different.
In search of La Catedral we turn compared to La Rambla – a new world. We were lost in those narrow streets, there was no more tourists crowded promenades, but a more peaceful atmosphere and a pair of small shops, where souvenirs and other things are sold at substantially lower prices than in the shops at some of the main attractions. At La Cathedral we run into an unexpected multitude of locals, who danced a traditional dance, which reminded us on Bosnian kolo but in abnormally slow rhythm 🙂 In the district where is this beautiful cathedral you can also visit the Museum d'Historia de Barcelona and Museu Frederic Mares (of course, with the payment of an entrance fee).
It's Gaudi day: as it is Plečnik for Ljubljana, Gaudi is to Barcelona. His creation of the Sagrada Familia and Park Guell are considered Symbols of the city and definitely also for the tourists most visited points. Park Guell is located in the district of El Carmel, about 20 minutes slow walk from our hotel, in a gentle and at times quite steep hill. The garden is otherwise huge, but the vast majority of it is free… for minor Gaudi part do you need a ticket, for which they charge € 8 per person. From the view, we expected a bit more than they actually offer. Here we can see in mosaic covered buildings among which stands out the fountain in the form of a lizard, standing in front of Palau Guell. Our interest took also the house at the main entrance, reminiscent of gingerbread house from a fairy tale Hansel and Gretel. But at the end of the day we were amazed by the magnificent Sagrada Familia. The church, which in certain areas is still overlap with guardrails and cranes. They build it for 130 years now and will continue for at least a further two decades. We didn't found any information's about how much money has already been invested in the building.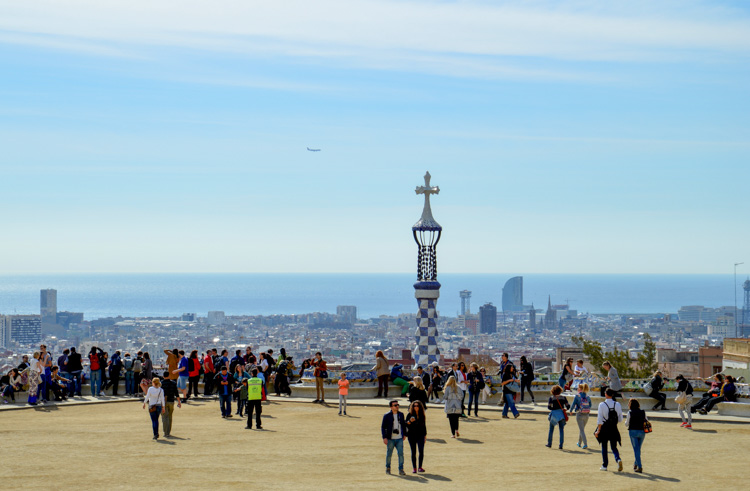 Mes que un club: If you are only a glimmer of a football fan, you're in the last few years certainly heard these words, which are spread over the grandstands of cult Camp Nou. A lot of won trophies, millions of sums of money and world-class players such as Messi, Neymar, vampire Suarez and many other. Well, we think you all already of which football club we are talking about. This is one of the most high-profile clubs around the world, football club Barcelona, the pride of Catalonia. In their schedule, there was no home games, where we could experience what true football euphoria is all about. Instead of that, we took a tour of an empty stadium, locker rooms, conference rooms, commentator cabins and museum in which we can admire a rich history of the club. For admission to the »Camp Nou Experience« you pay €23, which is several times less, than you pay for an original jersey in the official fan shop. Although we are (especially Saša) fans of the Real Madrid, it was still one of the best experiences 🙂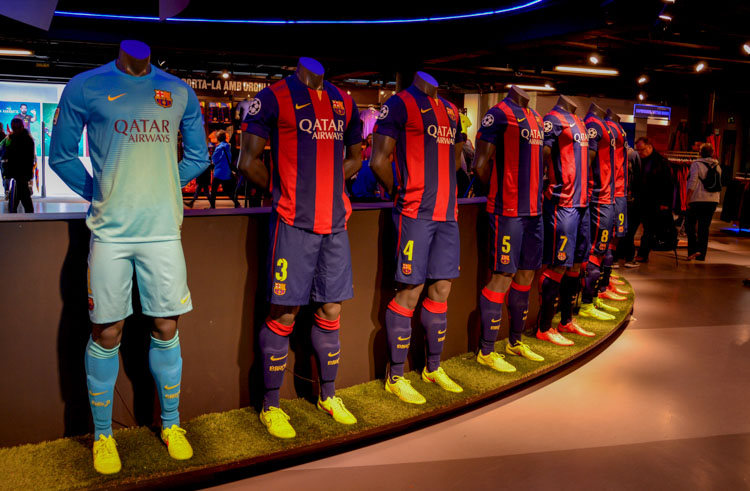 Already sporting coloured day we continue with a visit to the Olympic Stadium and Stadium in Montjuic Park, which hosted a summer Olympic Games in 1992, where Slovenia first began her independent career. Park compared to other cities that have hosted such a large and important event, is still extremely well maintained. In the immediate vicinity stands a huge museum of Catalan art.
In any case, it is better to get to know Barcelona on foot than by riding the hop-on hop-off bus, which many people recommended us. By walking along the shortcuts, in which you hardly find any tourist, you experience a true pulse of the city and it saves you a lot of money. Bus cost 27 euros per day, per person. For this sum you can already visit the museum, afford lunch and fresh cut fruit at the market. Of course, for that you spend a little more time and energy in particular. If you will go to Barcelona in the summer, we recommend you to stay there for at least another day or two more, so you would have time to enjoy the large beach, Barcelonnette.
S & B