A paradise for lovers of traditional Asian culture, enthusiasts of colourful and unique temples… Thailand is for many years a destination, which attracting crowds with its diversity, relatively affordable prices and of course beaches suitable for carefree lounging.
18-day travel plan for trip around Thailand
Day 1: Zagreb – Doha – Bangkok
We flew to Thailand, specifically to Bangkok, from Zagreb with Qatar Airways. You can also find very good connections from all over the Europe.
Immerse yourself in the chaotic life of the Thai capital, visit Grand Palace and Wat Prakaew Temple. Indulge in the crowds on the cult Khao San Road and get to know Thai cuisine as soon as possible.
During the day, take the local bus to the White, Blue and Black Temples, and in the evening, satisfy your hunger at the night market in the city centre.
Start a day in Chiang Mai by jumping on a scooter and take an exciting ride along the winding road to the Doi Suithep Temple at the top of the mountain. Visit one of many night markets ad find your best mango sticky rice while walking among the many stalls. We still dreaming about it 😋
Let the fun begin! Head to Bangla Road, enjoy a beer or cocktail and party to the beats of DJs. After spending the night in clubs, heal yourself by spending the morning, lounging on Patong Beach or driving to the huge statue called Big Buddha, where awaits you a beautiful view across the island.
Spice up your day in the typical seaside town of Ao Nang, take a boat ride to the Railay Peninsula or visit the Tiger Cave Temple near Krabi Town, which requires 1,237 steps to reach it! Yes, your fitness will definitely be put to the test 😃
Find yourself accommodation on the beach, lie down under the palm tree and try a Thai massage overlooking the sea. To quickly explore the island, rent a scooter, drive to Fisherman's Village Bophut, visit Grandmother's and Grandfather's Rock or any of many temples. Enjoy!
Use the last day for shopping and spending the last Thai bahts in one of the many shopping malls in the »newer« part of Siam. Of course, don't forget a decent farewell from sinfully good Thai food.
What do you need to pack?
– a preloaded map on your phone
– repellent against mosquitoes and other insects
– power adapter
– shorts and T-shirts
– swimwear
– bath towel
– high factor sunscreen
– sunglasses
– international driving license
– a lot of good will
Other tips!
Food.
Thailand is definitely a paradise for culinary enthusiasts. Numerous stalls, restaurants, night markets and food courts, no matter where you are, you will find a very varied culinary offer practically at every step. Rice noodles and rice with many different toppings, hot soups, fried dishes and desserts with fresh tropical fruits. Yummy! The best part are the prices – for a typical traditional dish called pad-thai (rice noodles with vegetables, egg, peanuts and chicken) you have to deduct on average around 2 to 3 euros.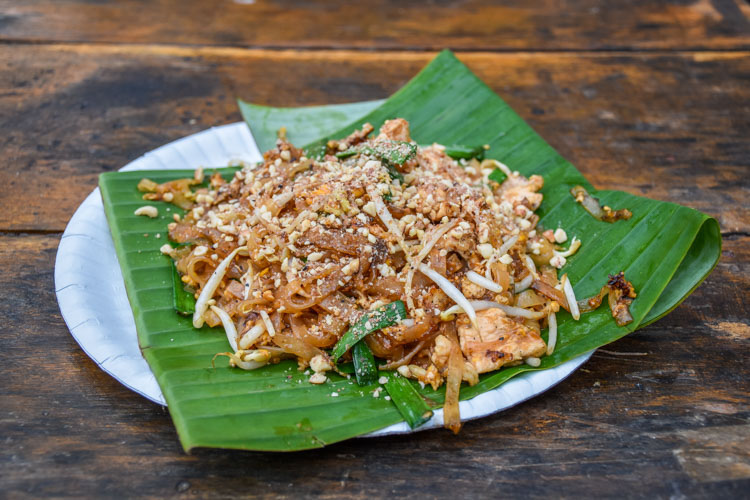 Accommodation.
Accommodation prices in Thailand vary widely, of course all depends on the quality. No windows, breakfast, with shared bathroom, without hot water or air conditioning – you can get rooms like this for just 5 €, or maybe even less (who knows). We suggest that you might indulge a little more luxury and comfort this time around – book a room at a hotel with a pool, included breakfast and in centre of everything. Believe us, the price will still be moderate and significantly lower than in many other parts of the world.
The biggest »problem« is certainly the choice itself → number of accommodations is practically endless, which makes choice itself much more difficult. Every time we travel, we book everything in advance from home, and on top of that we usually get better prices (on average, we deducted € 45 for a bed and breakfast for both of us, here in Thailand). If you are one of those who prefer to book accommodation at the last minute, you can certainly be without worries, you will most definitely won't stay without the roof above your head.
Our accommodation:
–   Bangkok: Bangkok Saran Poshtel and Anajak Bangkok Hotel
–   Chiang Rai: Baan Jaru
–   Chiang Mai: Le Naview @Prasingh
–   Phuket: Holiday Inn Express Phuket Patong Beach Central
–   Ao Nang: Sugar Marina Resort-Cliffhanger-Aonang
–   Koh Samui: Chura Samui
Scooter rental.
Haven't ridden a scooter yet? Neither did we 😁 Well, at least not before leaving to Thailand. The ride proved to be quite easy, fun and most of all flexible. You can rent a motorbike practically anywhere, just be careful when choosing a provider. Scooters should be as new and tidy as possible, and above all, a helmet should be included in the rental. Safety comes first!
The price of a daily rent costs on average about 7 euros, which is very affordable.
You need and international driver's license to drive on Thai roads. According to our experience, however, prepare yourself for police checks and fines – they can easily charge you for a couple of € 10.
Transportation.
You might not think so, but Thailand has very well-organized public transportation – both by land, sea and air. Moving around the country is easy, fairly comfortable and relatively fast. Regardless of the type of transport, you can book your seat online. In most cases, the price will also include transportation to and from the hotel, which makes moving around even easier. It all depends on your wishes, of course. A great online platform for finding your way of transportation and booking tickets is 12goasia.com.
All estimated costs of the trip for two people.
The costs, of course, differ from the wishes of each individual and can consequently be significantly reduced or greatly increased depending on the places you visit.
Before the trip:
–   Lonely Planet: € 22.95
–   basic insurance abroad Coris: € 47.00
–   transport to and from Zagreb airport (fuel and tolls): € 30.00
–   airline ticket Zagreb – Doha – Bangkok – Doha – Zagreb: € 770.00
–   Air ticket Bangkok – Chiang Rai (including luggage): € 70.00
–   Bus Chiang Rai – Chiang Mai: € 10.00
–   Airline ticket Chiang Mai – Phuket (including luggage): € 140.00
–   Phuket – Ao Nang ferry (including transport to and from the hotel: € 55.00
–   transport Ao Nang (Krabi) – Koh Samui: € 40.00
–   Air ticket Koh Samui – Bangkok (including luggage): € 135.00
On the trip:
–   accommodation (double room, breakfast): approx. € 45.00 per night
–   food and drink: € 20.00 per day
–   scooter rental: € 6.50 per day (we borrowed it 4 times)
Additionally:
–   fuel: € 4.00
–   other transport: € 40.00
–   massage for two people: € 20.00
–   purchase of souvenirs: € 20.00
–   entrance fees: € 50.00
Total cost of an 18-day trip (17 nights) in Thailand for 2 people: approx. 2,500 eur
That's it!
S & B