Why should we spent a free sunny day at home, when we can go on a short trip across the border. This time we return to the place where we realized that the travels will definitely be a part of our lives. At our first trip we went to Venice, that time with a travel agency, where time is very limited and you only run wild across the city or blankly follow guide who gives you piles of data, which are usually not that important and interesting. It is true that you see the whole town within three hours, but you do not experience those little things that make Venice, as well as any other place, something special.
A visit to the city, which is completely built on the water, with its very interesting and rich history appears to us as a great idea for a one-day trip. Venice are 240 kilometers from Ljubljana and you will need two and a half hours to get there by car. Italians still don't have vignettes so you will have to pay a toll, which is 20,20 € for both directions. Not exactly cheap for 140 kilometers of roads in each way, isn't it?
In Venice is also a problem with a parking – it is true that there is a bunch of large and small garages around the town, but when tourists get there, they filled up pretty quickly. We parked in a Trochetto parking garage which can accommodates more than 4000 cars. All day parking will cost you 21 €. Its advantage lies in the fact that you can go to a city on foot and save some coins, which you would otherwise spent for public transport.
After a few minutes of walk, we came to the main bridge called Ponte della Costituzione, which is a great starting point for the complicated path to the main St Mark's square. It is nice to have a map with you to navigate between the streets, even more easily, however is to look on the boards, which are installed on houses and they lead you to main attractions in Venice. These include both famous Rialto bridge, through which you can cross the main canal Grande, as well as the previously mentioned square, but expect that your route will be significantly longer, which is actually a positive thing, because you can admire typical Venetian houses, cross dozens of bridges and feast eyes at boutique shops of world-famous fashion brands.
At St. Mark's square, you can admire the main attractions. There are Doge's Palace (formerly the seat of Venetian ruler), Cathedral of St. Mark and the almost 100-meter-high bell tower Campanile. The city was not so long ago known for its many pigeons, so we cannot overlook the fact that there are almost none of those flying critters anymore. Apparently, additives for sterilization, which they mixed it in their food, really helped.
Venice itself are known to be an expensive city, but we have to say that this is not really true. You spend as much as you are wasteful! If we compare the prices of food, drinks and ice cream, they are completely in the same rank as elsewhere in Italy. Of course, it is necessary to ignore the bars and restaurants on the main St. Mark's square (for the price of one espresso, you can get a couple of pounds of coffee in a store)! Well, to go back… for a rotolini pizza (rolled pizza) we paid 3,50 € in kiosk Crazy Pizza, which is on TripAdvisor among the best in the city. For a tasty ice cream we went to Suso patisserie and paid 1,80 € per scoop and yes, it was totally worth it! 🙂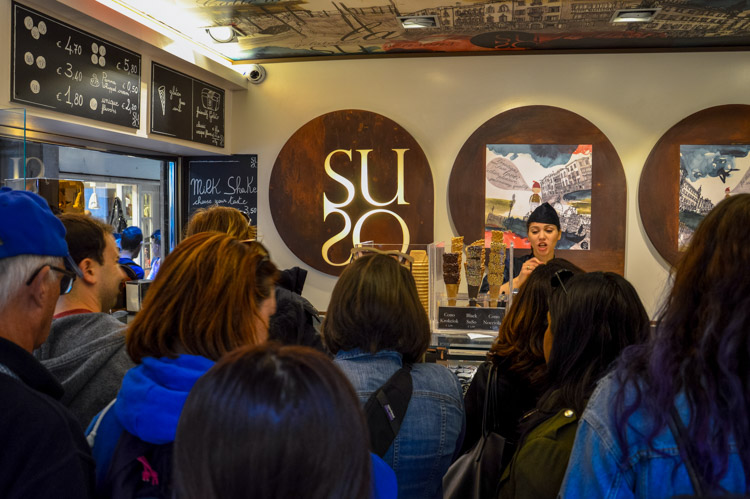 If we did not convince you that Venice are the interesting and must-see city, then you can also visit the nearby islands – such as Murano, where you can admire glass blowers at their work or walk among the colorful little houses in neighboring Burano. So, let's get in a car and go on a trip.
S & B